If you have driven past the Gateway complex over the winter months, you can see that phase 1 soccer fields are graded to field level. Special thanks to our construction partners that worked quickly to reshape the landscape. Phase 1 consists of seven soccer fields and Main Street retail land parcels. Once the phase 1 fields are installed, construction equipment will move to the east of Main Street and continue building the balance of the soccer fields.
Our architects, world renowned sports firm Populous (www.populous), HDR Engineers, our construction partner Lillig Construction and the City of Grandview have been working diligently the past several months on the approvals for the next phase of construction. Based on our latest meetings, we should be green lighted with final approvals shortly. Our goal is to have kids playing on these world class soccer fields in Fall 2019.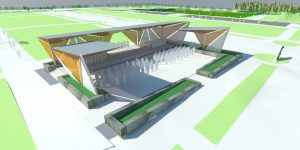 Over the next few weeks and months, we plan to announce the restaurants, businesses, lodging, recreation, medical and entertainment partners that will be a part of phase 2 Main Street retail and the commercial frontage on 150 highway.
Additionally, we are days away from exciting announcements on both our single family and multifamily homes at Gateway where families can experience the recreation and sports environment first-hand.
We appreciate your continued support and look forward to sharing exciting news and updates on a regular basis.